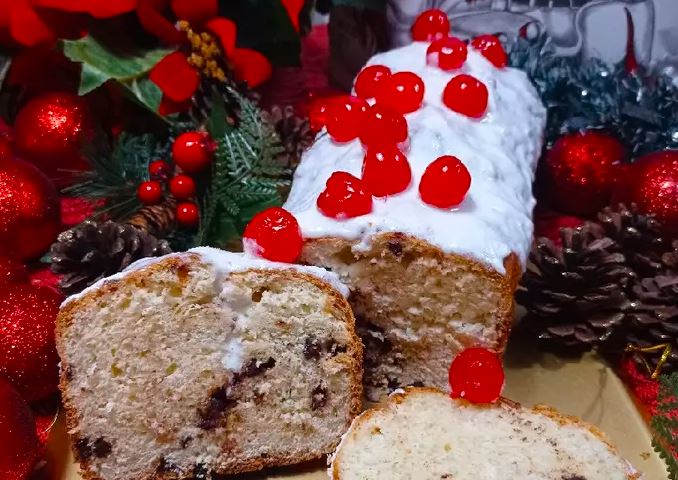 Ingredients:
For the dough:
750 g wheat flour
45 g fresh yeast
205 ml whole milk
3 eggs
100 g sugar
1 pinch of salt
1 teaspoon liquid sweetener
1 teaspoon essence for sweet bread (orange blossom water)
120 g soft butter
For the glaze:
500 g powdered sugar
1 egg white
Lemon juice
Cherries in syrup for decoration
Step by step
Step 1
With 250 g of flour, 15 g of yeast and 125 cc of warm milk form a dough and let it rest until it doubles in volume.
Step 2.
With the remaining flour mixed with the sugar and salt form a crown on the counter or in a bowl. In the center put the beaten eggs, the remaining yeast….
Step 3.
the milk, the sweetener and the essence. Mix with your hands by adding the first dough. Incorporate the butter and mix with your hands until fully integrated and obtain an elastic and soft dough.
Step 4.
Put the dough in a bowl, cover it with a lining or with cling film until it doubles in volume.
Step 5.
Remove the dough from the bowl and put in the center of the dough the chocolate drops. Make a dough roll with the chocolate inside and knead until the chocolate is distributed throughout the dough.
Step 6.
Line the inside of each pudding tin with parchment paper. Cut the dough into two pieces. Give each one the elongated shape of the puddings and put them inside the puddings.
Step 7
Let them stand covered with a liner until they double in volume. Bake in preheated oven at 180 degrees until a knife comes out clean (between 45 and 60 minutes, approximately) In the middle of cooking can be covered with foil to prevent over browning. Remove the breads from the oven and let them cool covered so that they retain their moisture.
Step 8.
Prepare the glaze by beating the sugar with the egg white and a tablespoon of lemon juice in a bowl (add more if necessary). With a spoon pour the glaze over the surface of the loaves and before it dries completely decorate with the cherries previously drained of their syrup. Let the glaze dry.
Step 9.
You can decorate the two loaves if they are to be consumed within three days, otherwise you can keep them in the freezer, as I did with one of them.
Step 10.
I waited to publish the recipe to defrost the bread that I kept in the freezer for three days and here is the result, scrumptious 😋 It is decorated with lemon flavored icing, cherries in syrup and dark chocolate squares.
Translated with www.DeepL.com/Translator (free version)