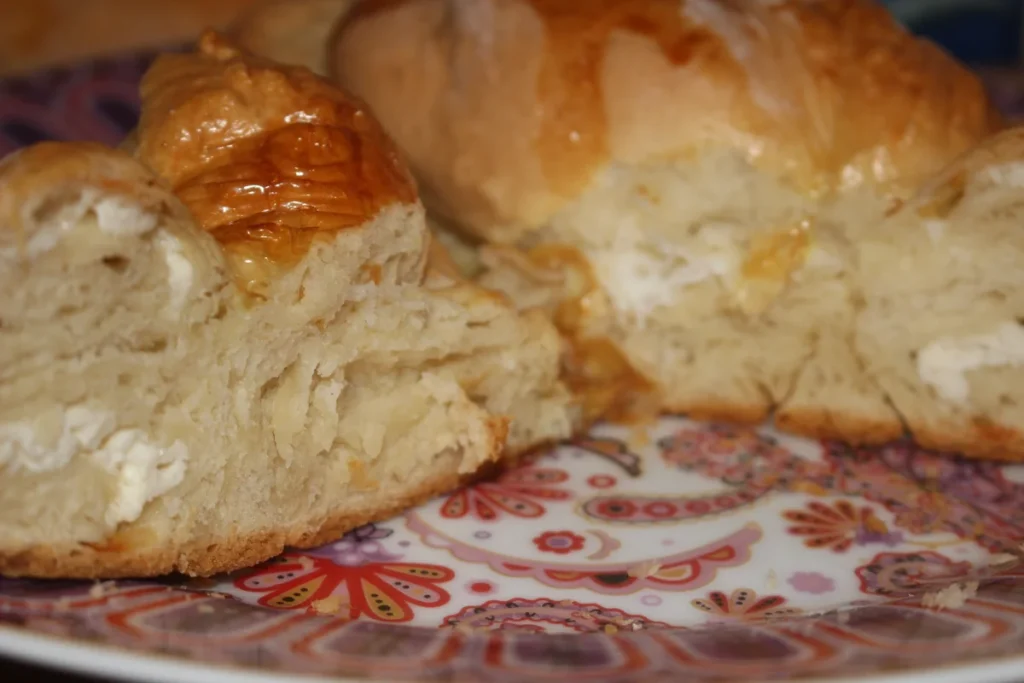 Ingredients:
300 grams of bryndza or cheese
For the dough
250 grams of milk;
Half a bag of dry yeast;
50 grams of sour cream;
One egg;
80 grams of butter;
Half a kilo of flour;
Half a teaspoon of sugar;
Half a teaspoon of baking soda.
To grease the dough.
A little vegetable oil and one egg.
Preparation:
I make a sourdough. To do this, I mix dry yeast with sugar and dilute with half a cup of warm milk. In about 5-10 minutes there is a puffy foam, the yeast has begun its work.
Sift the flour and add all the necessary products to the dough, including the starter. Knead the dough. You may need a little more or less flour. The dough is moderately covered, not sticky to your hands. I coat it with vegetable oil.
Then I cover it with a towel and leave the dough to rise. It takes about two hours. During this time, the dough doubles in size.
I divide the dough into four parts and sprinkle the board with flour.
I roll out each part on the board into a thin rectangle. Sprinkle the surface with grated cheese and make rolls.
I slightly twist each roll, and then take two of them and make rolls, as in the photo.
It remains from the two resulting rolls to form two loaves. They are made in the shape of an S. Keep in mind that the dough is thin and can easily tear, so form carefully. I have torn the dough.
Place the loaves on a greased baking tray, brush with egg, and send to the preheated oven to bake. Approximate baking time is about 40 minutes, but since everyone's oven is different, I advise you to watch the golden crust on your own.
This is the bread on the slice. It's soft, airy and melts in your mouth.