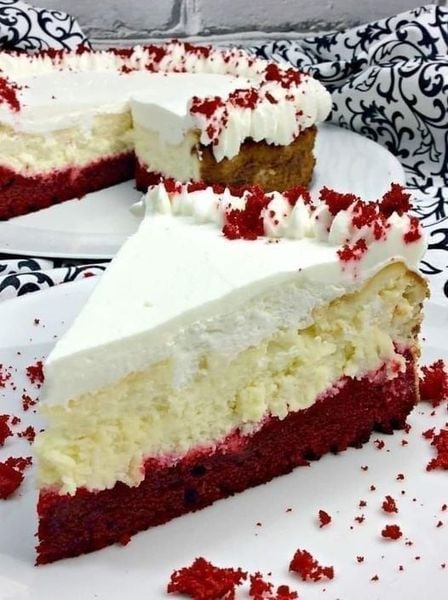 Ingredients

For the sponge cake:
Flour – 340 g
Sugar – 300 gr
Cocoa – 1 tablespoon
Salt – 1/4 tsp.
Baking powder – 2 tsp.
Soda – 1 tsp.
Eggs – 3 pcs.
Kefir 3,2% – 200 ml
Cream 33% – 80 grams
Sunflower oil – 300 g
Red food coloring (gel) – 2 tsp.

For the cream:
Butter 82.5% – 100 g
Powdered sugar – 100 g
Cream cheese (Philadelphia) – 350 g
Preparation
Sift all the dry ingredients twice. (Be sure to pay attention to the expiration date of baking soda and baking powder, otherwise the cakes will not rise).
To the dry ingredients add all the other products for the cakes. (To make the dough a bright red color, use gel dye, not dry dye).
Beat the dough on medium speed until smooth for 4-5 minutes. Let the dough stand for 5 minutes.
Line the bottom of a cake pan (20 cm in diameter) with parchment and grease the sides with butter. We will bake two cakes, so divide the dough into two equal parts weighing 650 grams. Piece by piece, place the dough in an oven preheated to 170 degrees for 20 minutes. Check the readiness of the crusts with a toothpick – it should be dry. (I do not recommend baking in a multicooker, because the biscuit turns out with very large pores. It does not look very nice in the cut).
Finished biscuits cool completely.
The biscuits will rise when baked, but we need smooth cakes, so we cut off the top of both cakes.
Shred the tops of the biscuits into crumbs (the crumb can be crushed by hand, and the hard crust – in a blender).
Let's proceed to prepare the cream. Beat the softened butter with a mixer for 2-3 minutes on high speed. Then add powdered sugar and continue beating for another 1.5-2 minutes.
Mix the beaten butter with the cooled cream cheese.
Place the cream in a bag and cut off a corner. Spread the cream in a circle on the bottom layer, 0.5 cm from the edge. Spread the cream and cover with the second cake. Place a plank on top and press lightly to make the cake even.
Spread a thin layer of cream on the top and sides of the cake.
Sprinkle the cake with crumbs. Put the red velvet cake in the refrigerator for a couple of hours or overnight.
Cake "Red Velvet" is ready.
Enjoy!