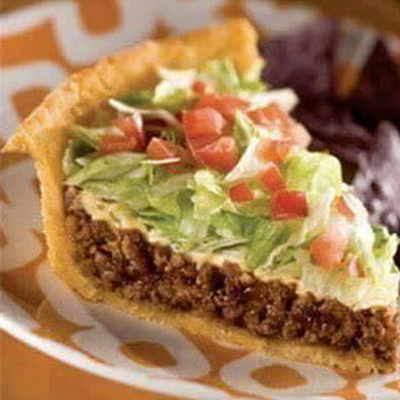 Ingredients
250 mL (1 cup) store-bought rotisserie chicken
1 package Old El PasoTM Taco Seasoning Mix
250 mL (1 cup) shredded cheddar cheese
2 boxes (8 each) Pillsbury? refrigerated croissants
250 g (1/2 lb) fully cooked ground beef, seasoned Mexican style
Finely chopped lettuce, diced tomatoes, sliced green onions and Old El PasoTM chunky salsa, if desired
Steps
1
Preheat oven to 375°F (190°C).
2
In 20 cm (8-inch) skillet, combine shredded rotisserie chicken, one package of Old El PasoTM Taco Seasoning Mix and 60 mL (1/4 cup) water. Cook and stir over medium-low heat until chicken is well coated with seasoning and mixture is hot. Add 125 mL (1/2 cup) grated cheddar cheese and stir to combine. Let mixture cool slightly.
3
Unroll the two boxes of dough and separate into 16 triangles. Arrange the triangles of dough on the ungreased cookie sheet so that the long points of the triangles face outward, like a sun. (The dough will overlap and half of the triangles will stick out over the edges of the cookie sheet.)
4
In a small bowl, combine the cooked and seasoned Mexican ground beef and the remaining 125 mL (1/2 cup) shredded cheddar cheese. Spoon beef mixture onto half of crescent rolls, towards center of crown, leaving other half empty. Spoon chicken mixture onto other half of wreath.
5
Fold the tip of each triangle protruding over the edges of the plate over the filling and seal the ends under the bottom layer of the dough to hold them in place. Repeat all around the wreath until the entire filling is covered. (Some of the filling may be slightly exposed.) Carefully separate the perforations in the dough on top until some of the filling is visible.
6
Bake for 20 to 25 minutes or until golden and cooked through. Let cool for 5 to 10 minutes before slicing. Serve with finely chopped lettuce, diced tomatoes, sliced green onions and Old El PasoTM Chunky Salsa.