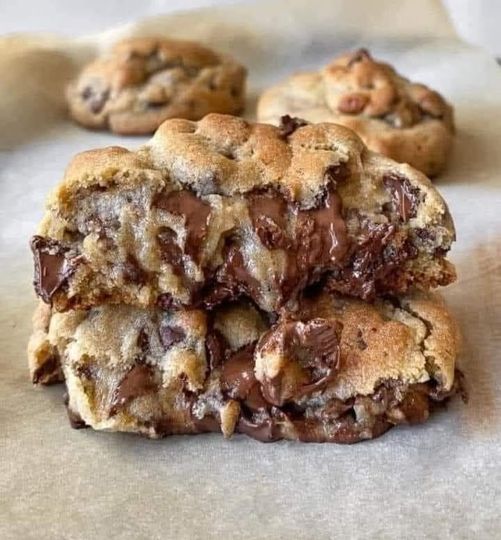 Do you like chocolate? And rightly so, because it's not just tasty, but also healthy. And that means you can and should eat it. If you are bored with the usual bars, make an amazing recipe for chocolate chip cookies at home. For a richer flavor, use chocolate bars with a cocoa content of 50% or more. Made from hand-picked raw materials, they contain phenylethylamine. This substance boosts your body's production of the hormone of joy (endorphin). This means that your chocolate chip cookies are sure to please the housemates!
The perfect chocolate chip cookie.
Once cooked, you'll also agree that these cookies are truly perfect. Their texture, slightly crunchy on the outside and chewy on the inside. We're sure to become a family favorite dessert with these chocolate chip cookies. The recipe with photos step by step is painted in detail. Which means that even a beginner will be able to cope with the task.
Ingredient:
2 1/4 cups of flour;
1 egg;
1 cup sugar;
1 teaspoon of baking soda;
1/2 teaspoon salt;
1 cup softened butter;
1 teaspoon vanilla;
2 cups semi-sweet chocolate chips;
1 cup coarsely chopped nuts.
Instructions:
Preheat oven to 180 degrees.
In a handy container, combine flour, salt, and baking soda.
In a separate bowl, use a mixer to beat the melted butter and sugar on medium speed until fluffy.
Using a mixer or fork in a deep bowl, beat the egg and vanilla until smooth over the chocolate chip cookies. Continue the step-by-step recipe by mixing the egg and butter. Mix well, you can use a mixer on medium speed.
Combine the butter mixture with the loose ingredients (the dough will be stiff).
Add the chocolate chips and nuts.
Place the dough on the prepared baking trays.
To do this, measure a portion (1-2 tbsp of dough) with a tablespoon, roll into a ball and place the cookies 2-3 cm apart.
Bake for 8 to 10 minutes or until light brown (the centers will be soft).
Cool completely, about 30 minutes before serving.