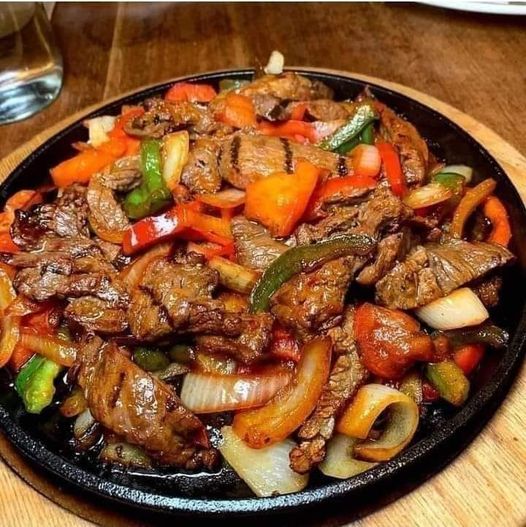 Ingredients

beef neck 1 kg
olive oil 5 tbsp.
soy sauce ¼ cup
sherry 2
ginger 1 tsp.
sugar ½ tsp.
colored bell peppers 2 pcs.
onion 1 pc.
celery 2 pcs.
black pepper ¼ tsp.
potato starch 1 tbsp.
meat broth ¾ cup
tomatoes 2 pcs.
Instructions
Grate ginger on a grater. Cut the meat into strips. Mix 2 tablespoons of olive oil and soy sauce with the next 3 ingredients. Add meat strips, mix well and marinate for 1 hour or more.
Heat a frying pan and add 2 tablespoons of olive oil. Add the beef and fry on high heat. Add the marinade. Cover, turn down the heat and simmer for about 20 minutes or until soft and tender.
Add 1 tablespoon of olive oil after time. Add peppers in strips or rings, chopped onion, 2 chopped celery stalks, tomatoes (cut into pieces if large), cherry tomatoes in half and black pepper. Cook together for 3-4 minutes. Remove from the heat.
Mix the starch with the broth, pour it into the beef and stir it. Garnish everything and serve at once. Enjoy your meal.