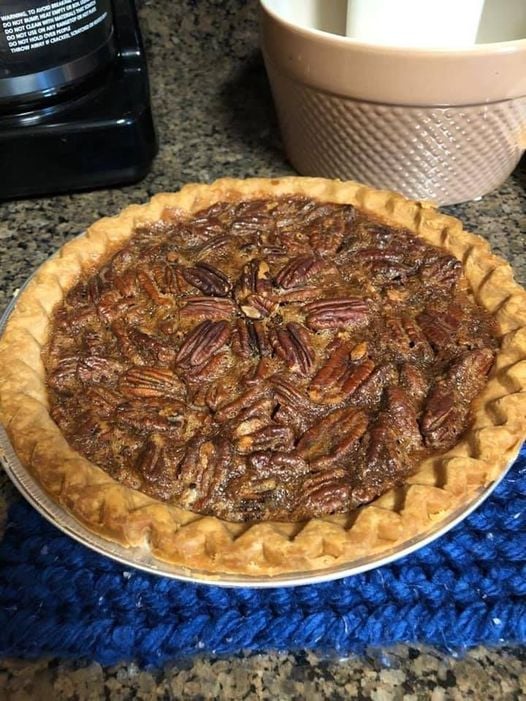 To make it you will need:
30 grams of flour;
1 teaspoon salt;
60 grams unsalted butter, chilled and diced;
80 ml vegetable oil;
60 ml of ice water.
For the filling:
200 grams sugar;
3 tablespoons light brown sugar;
1/2 teaspoon salt;
250 ml corn syrup;
3/4 teaspoon vanilla extract;
80 grams of salted butter;
3 beaten eggs;
75 grams of pecans.
Steps:
Start by adding flour and salt to a bowl.
Then add vegetable and butter.
Be sure to take cold butter to create a flaky pie crust.
Use a pastry blender or a pastry blender to turn the mixture into crumbs.
Add a little ice water, just one tablespoon at a time, until the dough begins to gather into a ball. The dough should not be sticky, and be careful not to overload it.
Divide the dough into two portions and flatten each into a disk.
Cover with plastic wrap and store in the refrigerator for at least 2 hours or up to 24 hours. You can also freeze the dough and make the pie later.
A foolproof way to roll out the dough and easily transfer it to the mold. Take a large, thin hand towel or cloth and lightly soak it. Squeeze it out to make it damp.
Lay the cloth flat on a hard, flat surface. Place a large piece of parchment paper on top of it. The damp cloth will prevent the paper from slipping as you roll out the dough.
Take the dough out of the refrigerator and sprinkle both sides with a little flour.
Use a rolling pin to gently roll out a large circle. Always start in the center.
Place the pie mold side by side. Then take the edges of the parchment, and carefully flip the dough straight into the mold. (You can also roll the circle around the rolling pin and then turn it into the mold)
Now prepare the filling and bake the pecan pie in the oven:
Mix sugar, salt, corn syrup, vanilla, oil and eggs in a bowl until smooth, then add pecans.
Pour the mixture into a mold and bake the pie at 175 degrees for 40-50 minutes. After about 30 minutes of cooking, check the pie, and when the edges or crust is brown, cover with foil, but be sure to spray it with spray first to keep the filling from sticking to the foil.
Call the family to the table, make tea, and enjoy a delicious homemade pecan pie!