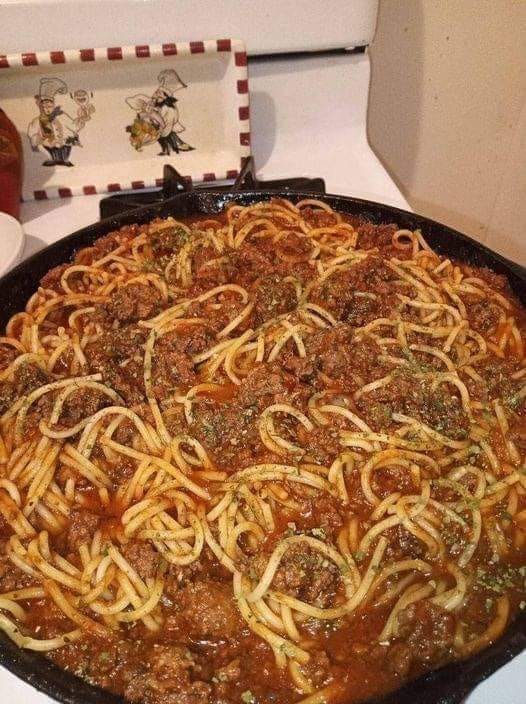 This traditional Italian dish has become very popular in Russia. It is cooked with meat, fruit sauces, cheese, sausage and even shrimp. Spaghetti is suitable both for a modest family lunch and for feeding a large company.
Spaghetti with stuffing
For this dish you need:
minced meat – 300 g;
spaghetti – 250 gr (0,5 pack);
Onions – 1 pc;
Garlic – 3 cloves;
curry – 2 tbsp;
paprika – 2 tbsp;
water – 1 tbsp;
cumin – 1 tbsp;
Also during cooking you will need olive oil (for frying onions), tomato paste – 1 tsp, salt – 1 tsp. Spaghetti should be placed in a high saucepan, salt. Place on the stove, boil, writes "Povar.ru".
Finely chop the onion, pour into a pan, fry in olive oil. Add the minced meat, mix together. Season with salt, put the lid on, stir-fry over medium heat until soft.
In a bowl mix curry, paprika and cumin. Pour in water, stir, place in skillet with stuffing, add tomato paste, stew until tender. Combine with spaghetti and stir-fry over low heat for 5 minutes.
Spaghetti with cheese and garlic
Prepare:
spaghetti – 250 g (0,5 pack);
hard cheese – 70 gr;
butter – 30 gr;
garlic – 2 cloves;
salt – to taste.
Boil spaghetti, put in a colander, drain. Put in a saucepan, add butter, stir, advises "Povar.ru".
Finely chop garlic, add to the spaghetti. Grate cheese on a grater, sprinkle on top. If desired – decorate with herbs. Serve hot.
Pasta, spaghetti and noodles can be made from wheat, rice, beans, starch. Each type is prepared differently. A few tips will help you learn about the most common cooking mistakes and how to avoid them.