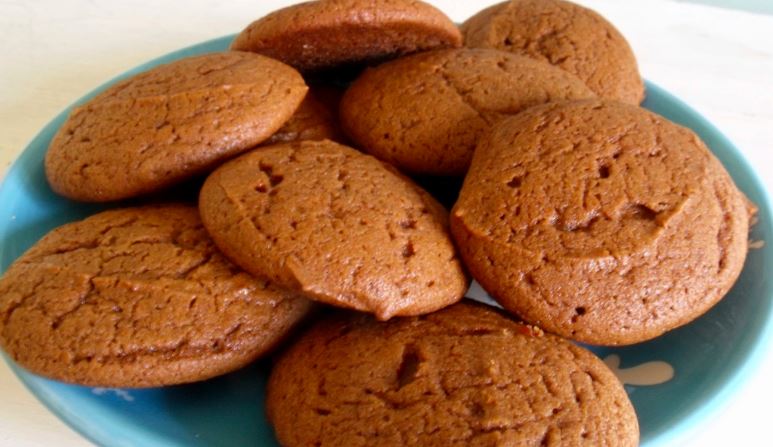 Molasses cookies are one of the classic types of American cookies. These cookies are not as well known as sugar cookies, oatmeal raisin cookies, chocolate chip cookies, or peanut butter cookies, but they are quite popular too. The recipe for the cookies is very simple: butter, sugar, egg, flour, and a couple of spices. It's the molasses that makes the cookies interesting and unusual: the taste is very "caramel," the color is deep brown, and the texture is crispy around the edges and a little "chewy," pleasantly chewy in the middle. In appearance, the "thing" about these cookies are the cute cracks on the top, you can see them well in the photo. Making molasses cookies is easy, you don't have to whip or boil anything beforehand, and there are very few ingredients. The original recipe is here. (I made minor changes: I replaced margarine with butter and reduced the amount of sugar and baking soda.)
Old fashioned soft molasses cookies
Ingredients
170 g butter.

3/4 cup sugar plus another 1/2 cup for crumbling

1 egg

1/4 cup molasses

2 cup flour

1 tsp. baking soda

1 tsp. ground cinnamon

1/2 tsp. ground ginger

1/2 tsp. ground cloves
Directions
Melt the butter in the microwave or in a water bath. Add sugar and egg to the butter and mix quickly and well. Add the molasses and stir.
In another bowl mix flour, baking soda and spices.
Combine the dry and liquid mixture and mix. [The dough will turn out very soft and viscous, but you do not need to add flour: when cooled, the dough hardens well.] Put the dough for one hour in the refrigerator.
Roll the dough into balls about 2.5 cm in diameter and lightly coat them in sugar.
Place the balls on a baking tray lined with a silicone baking mat or parchment paper, about 6 cm apart.
Place in a preheated 190 C (375 F) oven and bake for 8 to 10 minutes until golden brown. [The finished cookies will be soft, this is normal, they will harden as they cool.] Cool the cookies for about three minutes on the baking tray.
Transfer to a rack and cool to room temperature.
Serve with tea, coffee or milk.
Enjoy your cookies!