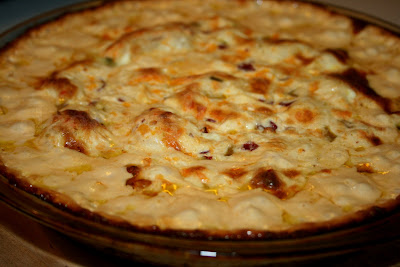 Ingredients
A bowl with a capacity of
3/8 liter bowl of grated white cheddar cheese
A bowl with a capacity of
3/8 liter bowl of grated white cheddar cheese
A bowl with a capacity of
1/2 liter bowl of fat-free sour cream
1 can (113 grams) green chilies
1 teaspoon of vegetarian Worcestershire sauce
1 clove garlic, crushed
1 bunch green onions, chopped
1 heart (184 grams) marinated artichoke hearts, drained and chopped
Salt and pepper to taste
1 round loaf of sourdough bread (400 grams)
A bowl with a capacity of
1/4 liter bowl of chopped tomatoes
Preparation
Preheat oven to 190 degrees (190 C).
In a medium bowl, beat Neufchatel cheese until tender. Stir in Cheddar cheese, sour cream, green chilies, Worcestershire sauce, garlic, green onions, artichoke hearts, salt and pepper.
Slice and hollow out the top of the bread. Pour the cheese and artichoke mixture into the bread bowl, replace the top of the bread and wrap the entire bowl in foil.
Bake in preheated oven for 40 minutes. Remove from oven and stir in tomatoes. Serve hot.