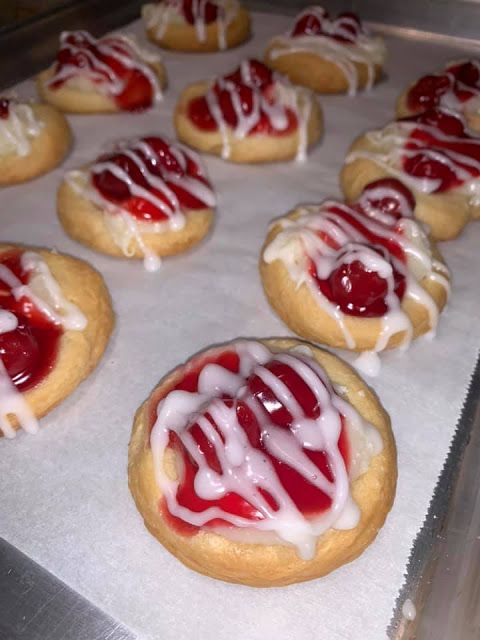 INGREDIENTS:

500 g corn curd
110 g sugar
5 egg yolks (M class)
5 tbsp. vanilla pudding powder
2 pk. Puff pastry (2 rolls; 270 g each, 40 x 24 cm; refrigerated))
1 tbsp. milk
300 ml cherry juice
¼ tsp. cinnamon (ground)
250 g sour cherries (frozen)
1 tbsp powdered sugar
PREPARATION:
Mix the quark, 80 g sugar, 4 egg yolks and 3 tbsp pudding powder well with the whisks of a hand mixer.
Unroll 1 puff pastry roll and place on work surface with the attached baking paper facing down. Unroll 2nd roll and place on first pastry sheet with baking paper facing up. Peel off paper. Cut dough into 8 x 8 cm squares with a sharp knife.
Now cut a cross diagonally from corner to corner in the top dough sheet of the squares only. do not cut all the way to the edge, but stop 1 cm short of the corner. Place pieces on a tray with baking paper.
Fold the dough tips outward from the center, creating an opening in the middle. It is best to lift the tips with a small knife.
Preheat the oven to 200 degrees (convection oven 180 degrees). 1 Whisk egg yolk and milk, brush dough with it. Spread the curd cream in the middle. Bake on the lowest rack for 22-25 minutes.
Boil 250 ml cherry juice, cinnamon and 30 g sugar. Mix 2 tbsp. pudding powder and 50 ml cherry juice, stir into the boiling juice and boil again well. Mix in the cherries. Pour everything into a bowl, let cool. Just before serving, spread the cherries on the puff pastry pieces and serve dusted with powdered sugar.