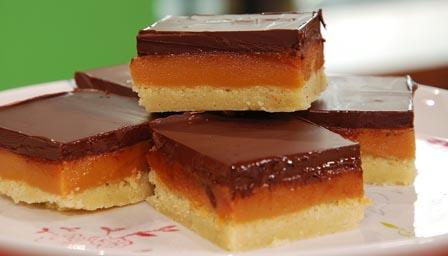 Ingredients

1cup Chocolate
1/3 cup Butter
0,5 teaspoon Oil
1 jar of milk jam
1 cup Flour
3/4 cup Salted butter
1/3 cup Sugar
Calories = Very high
preparation

Mix the flour with the sugar and the butter. Knead and form a dough.
With the palm of your hand, press the dough into a rectangular pan lined with baking paper. Bake for 25 minutes at 180°C (th. 6). Leave to cool outside the oven.
Break the chocolate into pieces and melt it with the butter. Mix to smooth it well and incorporate the oil.
Spread the shortbread with milk jam. Pour the melted chocolate on top and smooth with a spatula.
Let harden before cutting into rectangles.