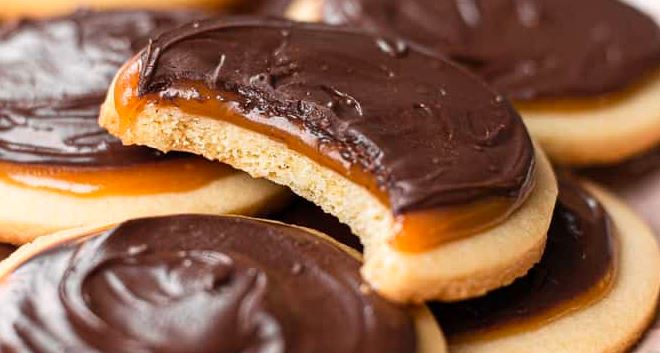 How to make homemade Twix cookies with caramel and chocolate recipe. Crumbly shortbread dough, lingering caramel and crunchy milk chocolate. Bon appetit! .
Ingredients
(24 pieces):
Cookies:
115 g soft butter
75 g sugar
1/4 tsp. salt
2 egg yolks (or 1 C1 egg)
180 g flour
1/2 tsp. baking powder
Caramel:
150g sugar
170 ml of 33% cream
40g butter
120g milk chocolate
Steps:
First prepare the caramel. Pour some of the sugar into a pan. Over medium heat, melt it. When the sugar begins to melt, add the rest of the sugar. Melt the sugar completely, using a silicone spatula. Add hot cream and stir. Add soft butter, stir. Stir in the soft butter and stir.
Let cool. Make cookies. Beat butter with sugar and salt for 2 minutes. Add egg yolks. Whisk for 1 minute. Sift flour and baking powder. Mix with a spatula until combined. Place the dough in clingfilm and leave in the fridge for at least 2 hours. Roll out the dough thinly and cut out cookies with a diameter of 6 cm (you can have another diameter).
Place the cut out cookies in the refrigerator for 30 minutes. Bake at 175 C for 10-13 minutes until the edges are golden. Let the cookies cool. Spread cooled caramel on top of the cookies. Spread melted chocolate on top of the caramel. Store cookies in the refrigerator.