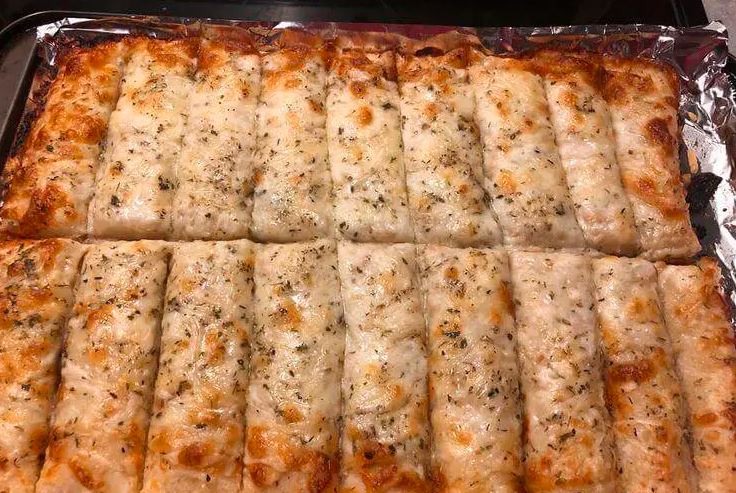 Ingredients:
Water – 3/4 Cups.
Sugar – 1 Tablespoon
Quick dry yeast – 2 teaspoons
Olive oil – 1 tablespoon
Flour – 2 Cups
Cornflour – 2 Tablespoons
Salt – To taste
Butter – 2 Tablespoons
Garlic – 1 clove
Parmesan cheese – 20 grams
Mozzarella" Cheese – 120gm
Instructions:
Dissolve active dry yeast and sugar in warm water. Allow the mixture to stand for 5 minutes, until a layer of thick foam appears.
Mix 1 cup of flour and salt to taste in a separate bowl, pour yeast mixture into this bowl and add olive oil.
Stir until mixture is uniform and smooth.
Add to the mixture 1/3 of the remaining flour at a time and after each addition, mix thoroughly until you have a dough.
Transfer the dough to a surface sprinkled with flour and knead, then form it into a ball and place it in a bowl. Cover the bowl with clingfilm and leave for 2 hours until the dough has doubled in size.
Cover a baking tray with parchment paper, sprinkle with cornmeal, take the dough and place it on the parchment. Roll it out across the baking tray so that it is about 1 cm thick.
Peel garlic and chop, grate two kinds of cheese. Put butter and garlic in a small container, melt butter in the microwave.
Using a brush, spread the garlic and butter mixture over the dough.
Sprinkle grated cheese on top of the dough.
Place the tray in a preheated 190 degree oven and bake for about 15 minutes, until the cheese is melted and the edges of the dough are just beginning to turn golden brown.
Slice the bread lengthwise into sticks, cool and serve, garnished with fresh herbs.

Enjoy!