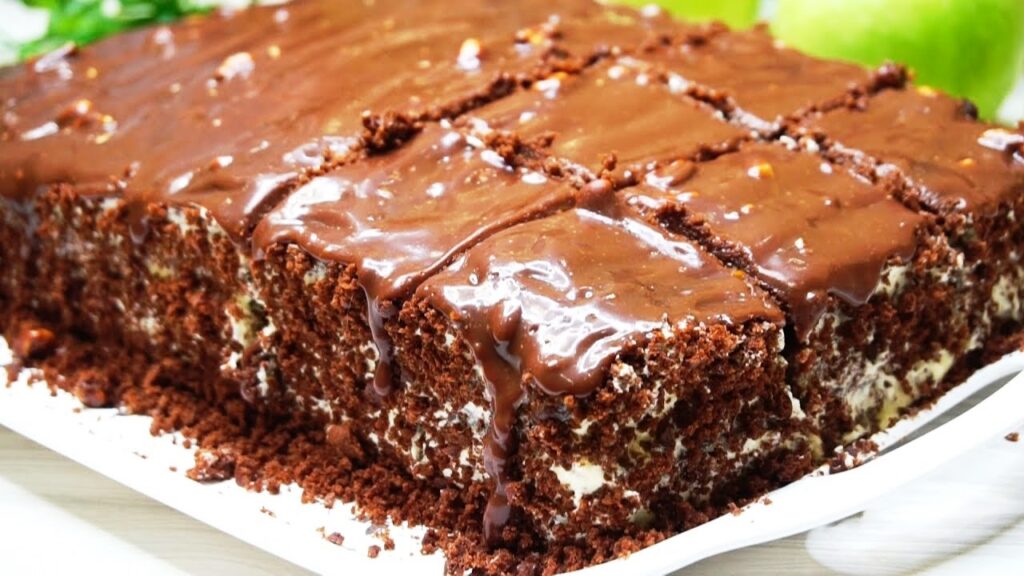 ingredients:
flour, 350 g;
sugar, 200 gr;
cocoa, 5 tbsp;
eggs, 2 pcs;
milk, 200 ml;
boiling water, 200 ml;
vegetable oil, 100 ml;
vanilla to taste;
baking soda, half teaspoon
apple or regular vinegar, 1 tsp;
baking powder, 10g.
To prepare the buttercream take:
condensed milk, 230 ml;
Butter, 150g
To prepare the frosting:
cream or milk, 30 – 50 ml;
Chocolate, 100 g.
Sift the flour, mix with cocoa and baking powder, vanilla and sugar, salt. Stir the mixture.
We beat the eggs with a mixer and add vegetable oil, milk, whisk and add boiling water. Mix until homogeneous.
Add the dry mixture and mix in portions, then pour in the baking soda and vinegar. Mix until completely homogeneous. Divide the dough into 2 parts.
Line a mold with parchment and pour the dough out.
Preheat oven to 180 degrees and bake crusts for 15 to 20 minutes, check readiness.
Beat the softened butter with a mixer at first on low speed, then increase and add the condensed milk.
Melt chunks of chocolate in cream or milk, mix until smooth.
Shape the cake by smearing the cream on the cakes. On top pour the frosting.