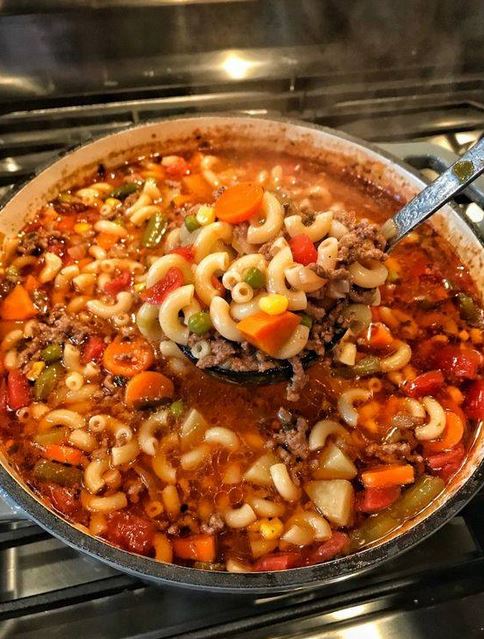 Ingredients
1-2 tablespoons of melted butter
450 gr of lean ground beef
1 medium sized onion, finely chopped
1 celery stalk, finely chopped
2 garlic cloves, chopped
1 teaspoon ground black pepper
1 teaspoon garlic powder
4 cups chicken broth
2 cups water
1 large diced tomato
2 medium pickles, finely chopped
1 tablespoon Dijon mustard
1 tablespoon Worcestershire sauce
1 cup dry short pasta to your liking
Grated cheddar cheese for garnish
Instructions
In a saucepan set over medium heat, melt half the melted butter. Add the stuffing, break it up into pieces with a wooden spatula and stew, stirring occasionally, until the stuffing is browned for 7-8 minutes. Add the rest of the ghee, finely chopped onion, celery, garlic and spices and continue to stew over medium heat for 2-3 minutes, stirring occasionally.
Add the chicken broth, water, diced tomatoes, finely chopped pickles, Dijon mustard and Worcestershire sauce. Stir, bring to a boil and simmer over low heat for 15 minutes.
Add the pasta and continue to simmer until the pasta is fully cooked, about 8 minutes. Season to taste with salt and pepper, stir, and serve with a sprinkle of grated Cheddar cheese over each serving.