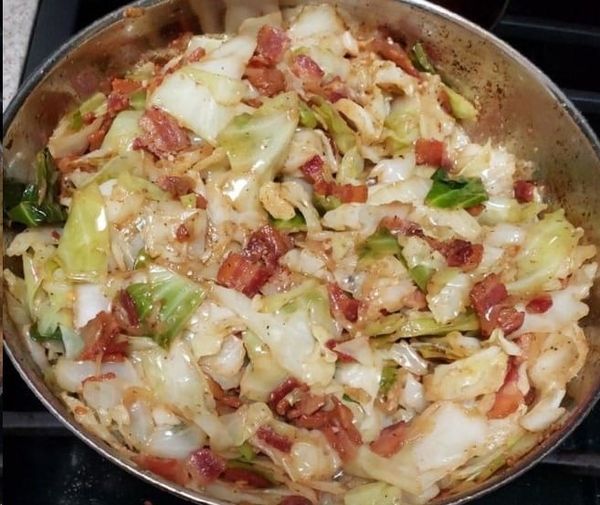 Ingredients:
Bacon 300 grams
White cabbage 1 piece
Tomato paste 2 tablespoons
Water 50 milliliters
Salt to taste
Sugar 1 teaspoon
Black pepper
Chopped to taste
Bay leaf to taste
Preparations:
Cut the bacon in small pieces or slices, but not too thinly, so that it does not burn. Pour a small amount of oil into a frying pan, as the bacon itself after frying will release enough fat.
Fry the bacon until golden. After that, you can add onions and carrots to the pan. This recipe is simplified, so these vegetables are not used. But this makes the taste of braised cabbage no worse.
Slice the cabbage not too thinly, so that it remains whole after cooking.
Place it with the bacon and fry over medium heat for about 10 minutes.
Salt and pepper the cabbage (you can use red or black pepper) to taste.
Stir the tomato paste and water in a bowl or other container and add a little sugar.
Add the tomato paste to the cabbage and add a few bay leaves.
Braise the cabbage under a lid over low heat for about 20 minutes. There should be no liquid in the cooked cabbage.
After cooking, pour the stewed cabbage into a bowl and let it cool slightly. It can be used as a complete separate dish or as an addition to your favorite side dish.
Enjoy!
[addthis tool="addthis_inline_share_toolbox_5bgu"]