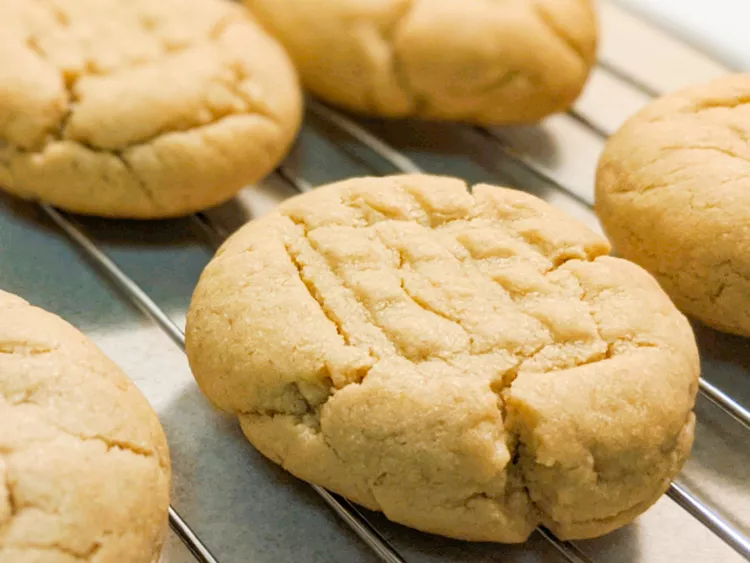 Ingredients
Butter 82.5% (softened) – 150 g
Brown sugar – 265 g
Salt – 2 g
Peanut paste – 235 g (˜300 g of raw peanuts)
Egg – 80 g
White whole wheat flour – 250 g
Baking powder – 3 g
Soda – 1 g
Preparation
I did not have ready-made peanut paste, so I made it myself.
For this, roast the peanuts (300 g) until golden.
Peel the peanuts from the husks.
Process in a blender to a paste.
Mix melted butter (150g) and brown sugar (265g) in a bowl.
Add the peanut butter (235 g).
Gradually add the eggs (80 g).
Sift together the flour (250 g), baking powder (3 g) and baking soda (1 g).
Mix all the ingredients until homogeneous. Do not knead for a long time, or the cookies will be stiff.
Form into balls of ˜30g each. I had a total of 32 balls (3 baking trays).
Next, press the balls and apply the pattern with a fork crosswise. I pressed them with the bottom of a glass. You can just press with your hand, but the cookies will be less neat.
Bake the cookies in a 150° C oven until golden, about 20-25 minutes. I baked for 22 minutes with convection.
Cool the finished cookies on a rack.
Enjoy!