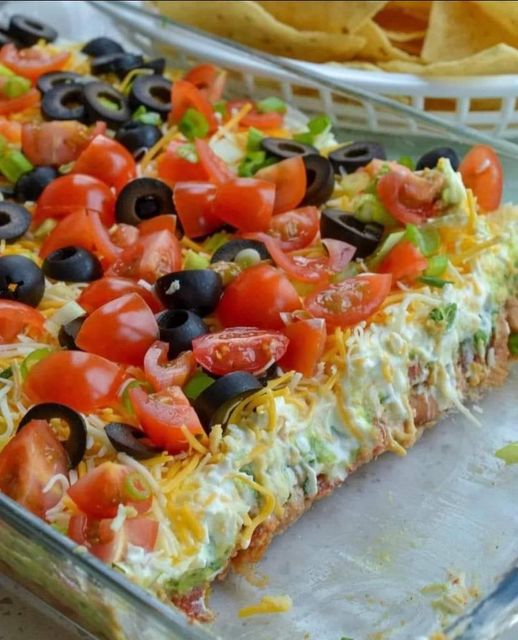 If you're looking for a great recipe to throw a party or eat one on one, the 7 Layer Dip is for you. You can make this dip a day in advance and cover it with plastic wrap, or better yet, make it in a pyrex cup with a lid and store it in the fridge. The 7-layer Taco Dip is served cold, so when it's party time, take it out of the fridge. Open the bag of potato chips and you're ready to party!
ingredients:
Fried corn and jalapeño sauce
Creamy cannoli sauce
Tomato sauce and whipped ricotta
Cheesecake with banana cream
DIRECTIONS:
Mexican 7 Layer Dip is an easy sauce to make for parties. Layers of Tex-Mex flavors come together to make an easy cold sauce for tortilla chips.
32 oz. refried beans.
2 tablespoons taco seasoning
2 cups guacamole
2 cups sour cream
2 cups grated cheese
3 cups diced tomatoes
2.25 ounces chopped black olives
1/4 cup green onions, finely chopped
In a bowl, mix the refried beans and taco seasoning. Stir until smooth.
Spread the refried beans in the bottom of a 13-by-9-inch pan.
Top with a layer of guacamole.
Spread a layer of sour cream over the guacamole.
Add a layer of cheese on top of the sour cream.
Next layer of fresh tomatoes.
Top with black olives and green onions.
Cover and place in refrigerator at least 1 hour before serving.
Calories: 283 kcal, carbs: 15 g, protein: 9 g, fat: 20 g, saturated fat: 9 g, cholesterol: 39 mg, sodium: 703 mg, potassium: 368 mg, fiber: 6 g, vitamin A: 940 IU, vitamin C: 10.2 mg, calcium: 216 mg, iron: 1.3 mg
Nutritional Disclaimer: We are not certified nutritionists. Nutritional data are approximate and provided as a courtesy. They are generated by an onlineAPI that recognizes ingredient names and amounts and performs calculations based on serving size. Results may vary.