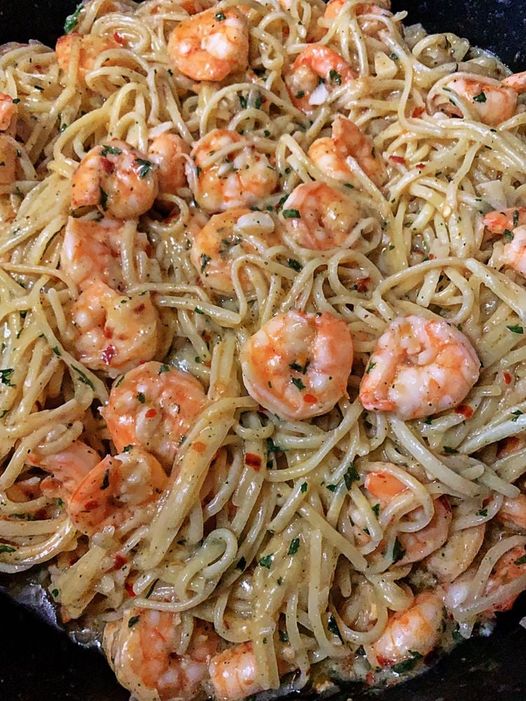 Ingredients:
Shrimps 450 gr.
Paprika 1 tsp.
Butter 50 gr.
Garlic 2 cloves.
Thyme 1 tsp.
Oregano 1 tsp.
Tomato paste 1 tsp.
Cream 20% 20% 1/2 tbsp.
Broth 1/2 tbsp.
Milk 1/2 tbsp.
Lemon 1/2 p.
Parsley 1 pt.
Hard cheese 100 gr.
Salt to taste
Ground black pepper to taste
Spaghetti 450 gr.
Directions:
Start by preparing the spaghetti. Put a large pan of salted water on the stove and bring it to the boil. Continue boiling the pasta without breaking it into pieces, and boil it according to the instructions on the carton, but make sure not to overcook it (this will definitely not make a pretty dish).
Drain the water and set the container with the cooked pasta aside for a while.
Meanwhile, in a large saucepan, put the butter, send to the stove and melt at maximum temperature.
In the heated butter, place the pre-cleaned shrimp (use medium-sized shrimp), seasoned with paprika. Fry on the lowest heat, turning each shrimp separately to cook evenly on all sides.
Cook the shrimp for about 3 to 5 minutes, then remove from the saute pan to a plate and set aside for the rest of their journey.
And in the still hot saucepan add more oil, then garlic squeezed through a garlic crusher (or as finely chopped as possible), season with paprika, dried thyme and oregano, stir everything thoroughly for about a minute or until richly flavored.
Add the tomato paste, stir again, pour in the milk and heavy cream, a splash of lemon juice and add the chicken broth. Bring the milk mixture to a boil, then reduce the heat and simmer for about 5-7 minutes.
Add the spaghetti and fried shrimp to the prepared sauce. Stir everything until all products are combined and sprinkle with finely grated cheese. Stir the contents of the saucepan for another minute to satisfy your taste buds. Pepper, salt, add more chicken broth (if necessary).
Turn off the heat, and set the pasta aside to soak in more sauce. Serve the pasta with shrimp, garnished with finely chopped parsley.