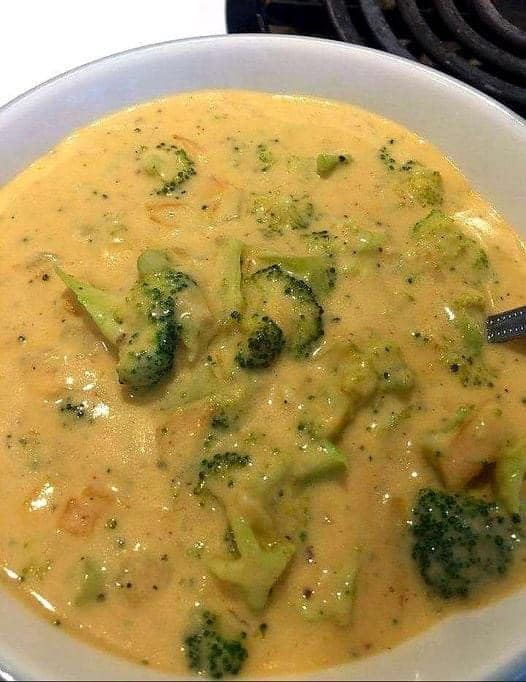 Ingredients:
vegetable broth 2 cups
broccoli 340 g
225 g cheddar cheese
zucchini (small) 1 pc.
Carrots (medium) 1 pc.
milk 1 cup
cream 1 cup
Butter (baked) ¼ cup
flour ¼ cup
butter 2 tablespoons
nutmeg ⅛ tsp.
ground black pepper to taste
coarse salt to taste
Preparation:
Step 1.
Pour water into a large saucepan, salt and bring to the boil. Add the broccoli, and cook for a few minutes.
Step 2
Take out the broccoli and put it in ice water.
Step 3
Dry the cooled florets and set aside for a while.
Step 4
Fry carrots and onion in oil. Set aside.
Step 5.
Pour ¼ cup melted butter into a pan, add flour, stir for a few minutes.
Step 6.
Mix the cream with the milk. Carefully add the cream-milk mixture, then the vegetable broth, whisking.
Step 7.
Add the nutmeg, stir to combine.
Step 8.
Cover and cook for 20 minutes.
Step 9
Reduce heat to low, place carrots, onions, and broccoli.
Step 10
If the mass is very thick, add more broth.
Step 11
Stir, cover for another 25-30 minutes.
Step 12
Crush broccoli, add ½ of the grated cheese.
Step 13
Sprinkle broccoli cream soup with Cheddar cheese with pepper and salt.
Step 14
Arrange the rest of the cheese in a pile on each plate.