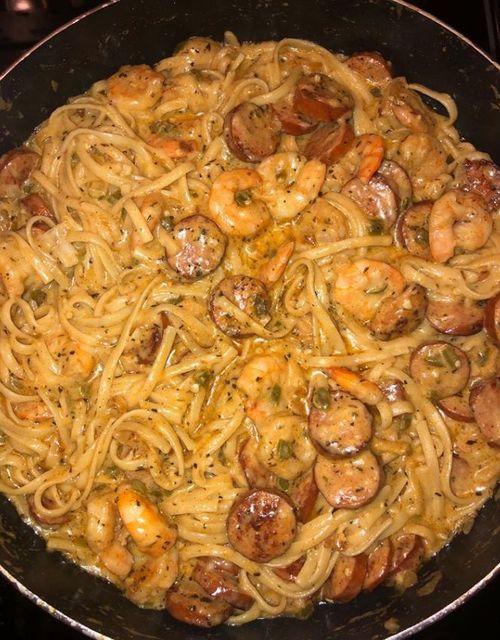 Ingredients
Cooked frozen king prawns – 1-1,2 kg
onion – 1 pc
garlic – 3 cloves
Ground dried parsley – 0.5 tsp. or fresh parsley
flour – 1 tablespoon
boiling water – 100 ml
20 % fat sour cream – 3 tablespoons
salt to taste
ground black pepper to taste
pasta – 400 gr.
Preparation

First we need to peel the shrimp. I almost always buy shrimp in the shell. I poured hot water over frozen shrimps… I kept them for a while… then I peeled off the shell… cut the shrimp across the back and removed the guts.
Fry finely chopped onion in a mixture of butter and vegetable oil.
Then we put our shrimp.
Salt, pepper, add dried parsley (I put it at this stage… My middle son doesn't like parsley, so I don't sprinkle fresh parsley on the cooked pasta… it's up to you!) Stir.
Fry everything with the lid slightly open for about six minutes.
Then add finely chopped garlic. Fry everything again, stirring, for about two minutes.
Then sprinkle a spoonful of flour over everything and stir it. We pour boiling water.
Then we add some heavy sour cream, stir it and let it boil for about 2 minutes. We test for salt…
Boil the pasta separately according to the instructions… …we put it in a colander… then put the pasta in the sauce with the shrimp. Stir…
Serve… When serving, you can sprinkle chopped parsley on top… You can also sprinkle grated parmesan on top, but honestly, it was pretty greasy as it was, you can do without.
Enjoy!
[addthis tool="addthis_inline_share_toolbox_5bgu"]