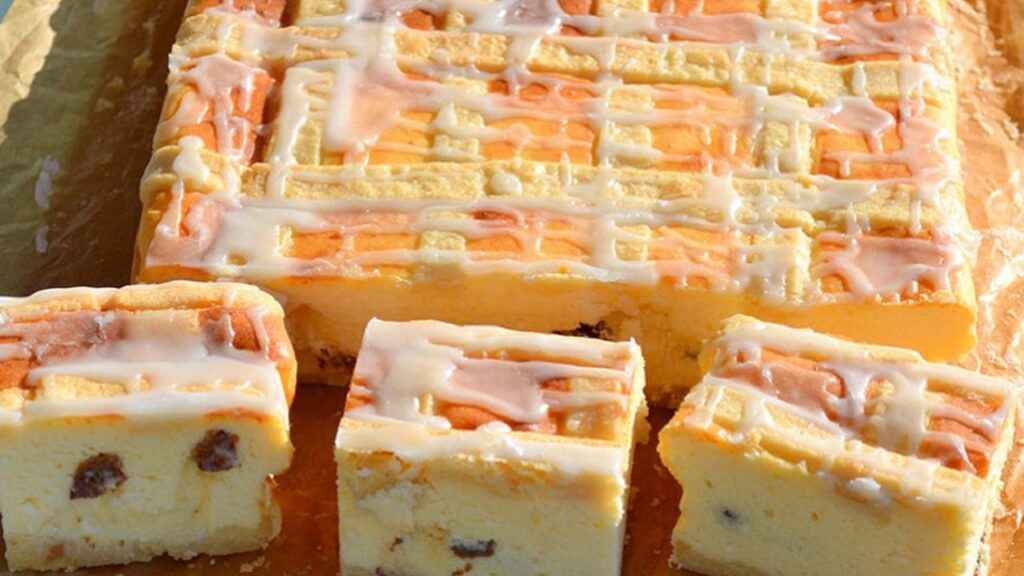 Ingredients:
Sulfur – 1 kg
Egg 1 pc.
Egg white – 8 pieces.
Eggroll – 8 pieces.
Vermicelli oil – 225 g
Cukewarm powder – 375 g
Vanillin – 2 gr
Starch – 3 tablespoons
Rödzinky – 100 gr
Wheat boron – 250 gr
Salt – 1 soup spoon
Preparation:
Beat 125g of butter with 125g of baking powder. Add 1 egg, vanillin and mix.
Stir in the boron. Knead the dough and then put it into the refrigerator for a year.
Take up a trifle more than half of the dough and roll it into a layer. Place it on a baking sheet lined with parchment. Prick the surface in several places with a fork. Place the dish in the refrigerator for two minutes.
At the end of the time, place the base in an oven that has been heated to 180 degrees for 12 to 15 minutes.
Prepare the filling. Rinse the cheese through a sieve. Beat it in a blender until you obtain a soft mass.
Then beat the browned cake butter that was left over with 200 g of the zucchini powder. While beating, add one gum and one spoonful of sour cream until the mixture is complete.
Beat the egg whites with the dried salt. Mix 50 g of the zucchini powder and beat until it becomes a foamy consistency.
Add the prepared cornflakes and starch. Add the egg whites to the siren mass, stirring thoroughly.
Place the ready cakes in the form, with the siren filling on top. Roll out the dough thinly.
Arrange it in smoothies and lay them in a lattice pattern on top of the filling.
Place the cake mould in a heated 180 degree oven for 50 hwy.
Turn off the oven, open the doors, and let the marmalade stand for a year.
If you feel like it you can glaze the cake.
Enjoy!