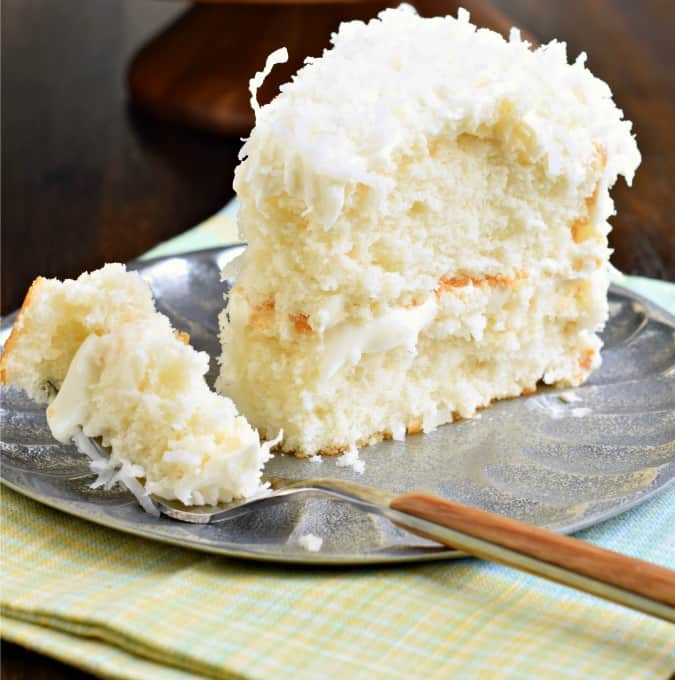 Ingredients
2 packages 227 g (8 oz) cream cheese, room temperature
250 mL (1 cup) unsalted butter, room temperature, in pieces
500 mL (2 cups) powdered sugar
5 mL (1 tsp.) coconut oil
Cake
680 mL (2¾ cups) all-purpose flour and some for the moulds
15 mL (1 tbsp.) baking powder
5 mL (1 teaspoon) salt
250 ml (1 cup) unsalted butter at room temperature and some for buttering the moulds
310 mL (1½ cups) sugar
3 eggs
15 mL (1 tablespoon) vanilla extract
5 mL (1 teaspoon) coconut oil
250 mL (1 cup) coconut milk (mostly the liquid at the top of the can)
500 mL (2 cups) sweetened shredded or flaked coconut
Steps
Servings: 10 people
For the frosting, place the cream cheese and butter in a large mixing bowl and beat until smooth. Add confectioners' sugar, then coconut essence and beat until incorporated.
Refrigerate for 3 hours. Remove the mixture from the refrigerator 1 hour before preparing the cake.
Preheat oven to 180°C (350°F). Lightly butter and flour two 23-cm (9-inch) round baking pans. Line the bottom with two buttered and floured parchment paper discs.
For the cake, combine flour, baking powder and salt in a large bowl.
In another large bowl, using an electric mixer, mix 250 mL (1 cup) butter and 375 mL (1½ cups) sugar until light and fluffy. Add eggs one at a time, beating well each time. Add the vanilla and coconut essences and beat until incorporated. Reduce the speed of the mixer and, alternately, add the flour mixture and the butter mixture.
When the mixture is smooth, divide it between the two molds, smoothing it out. Lightly tap the pans on the counter to even out the surface. Bake for 30 to 40 minutes or until surface is lightly browned and a toothpick inserted in the center comes out clean. Cool for 10 minutes, then turn out onto a wire rack, remove parchment paper and cool completely at room temperature for at least 4 hours.
To make the frosting, place one cake upside down on a plate and cover with about a third of the frosting, spreading it well. Place the second cake on top (also upside down) and frost the entire cake. Garnish the entire surface with shredded coconut.