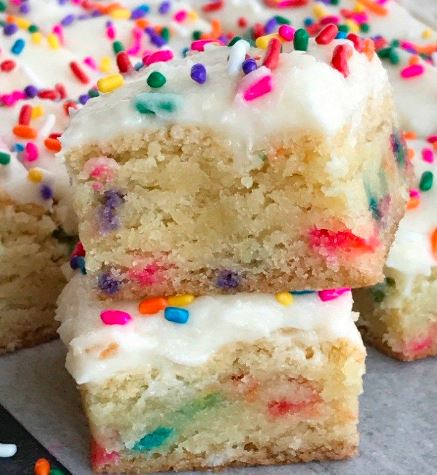 Ingredients
1 bag Betty CrockerTM Sugar Cookie Mix
60 mL (1/4 cup) all-purpose flour
125 mL (1/2 cup) butter, softened
2 eggs
45 mL (3 tablespoons) light-flavoured molasses
3 mL (3/4 tsp.) ground cinnamon
3 mL (3/4 teaspoon) ground ginger
2.5 mL (1/2 tsp.) ground allspice
1 mL (1/4 teaspoon) ground cloves
170 g cream cheese, softened (from a 250 g package)
75 mL (1/3 cup) butter, softened
3 mL (3/4 tsp.) vanilla
625 mL (2 1/2 cups) powdered sugar
1 mL (1/4 teaspoon) ground cinnamon
Steps
1.Preheat oven to 175°C (350°F). Spray the bottom and sides of a 33 x 23 cm (13 x 9 in.) pan with cooking spray.
2.In a medium bowl, mix gingerbread bar ingredients until well blended. Spread evenly in pan (mixture will be thick). Bake for 20 to 23 minutes or until set and a toothpick inserted in the center comes out clean. Cool completely for about 45 minutes.
3.In large bowl, beat cream cheese and 75 mL (1/3 cup) softened butter with electric mixer on medium speed for 1 to 2 minutes, scraping bowl occasionally, until smooth and creamy. Stir in vanilla and confectioners' sugar until smooth and spreadable.
4.Spread frosting on top of cooled bars; sprinkle with 1 mL (1/4 tsp) cinnamon. Refrigerate 1 hour before serving. To serve, cut cake into 6 rows and 4 lines.