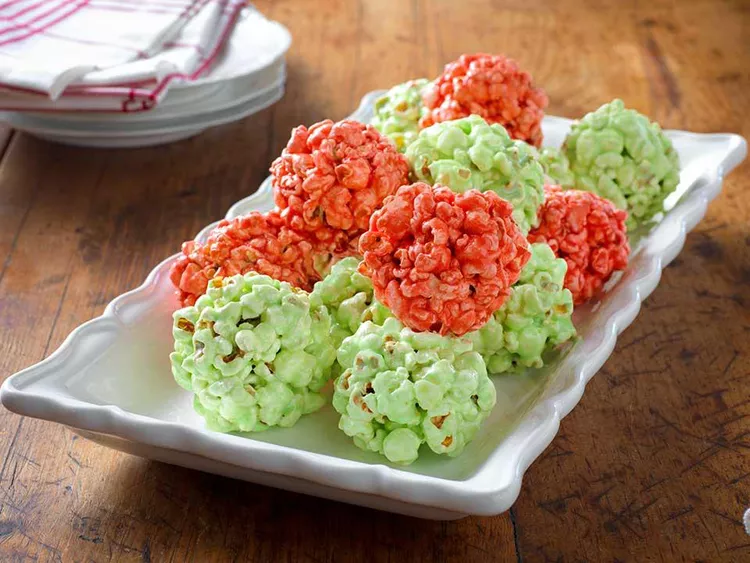 Ingredients
Popcorn (1/2 cup popcorn kernels, or a 100-gram bag of plain popcorn).
Marshmallows – 100g.
Melted butter – 1/4 cup).
Prepare:
Start by making the popcorn, following the instructions on the package. You can use a microwave or a pot with a lid for this purpose.
Melt the butter in the microwave (about a minute).
Once the butter is melted, add a package of miniature marshmallows to it and turn the microwave back on.
Wait a minute or two until the marshmallows are completely melted, then remove from the microwave.
Add the mixture to the popcorn and M&M's candy. Stir with a wooden spoon until all of the popcorn is coated with the sticky, gooey marshmallow mixture.
Rub your hands with a little oil to keep the popcorn from sticking to them. Form into small balls. Then place on a baking tray lined with parchment paper and form the remaining popcorn balls. Be careful as the melted marshmallow mixture can be hot, especially for little hands if your kids are helping you.
Use a measuring cup to make evenly proportioned marshmallow popcorn balls. You may have to butter your hands a few times during the process.
If the popcorn balls don't hold their shape very well, let them cool for a few minutes, then squeeze them together again.
These crunchy marshmallow popcorn balls are best eaten fresh immediately or within 1-2 days. They can be wrapped in cellophane or clear wrap and handed out individually to children at the party.