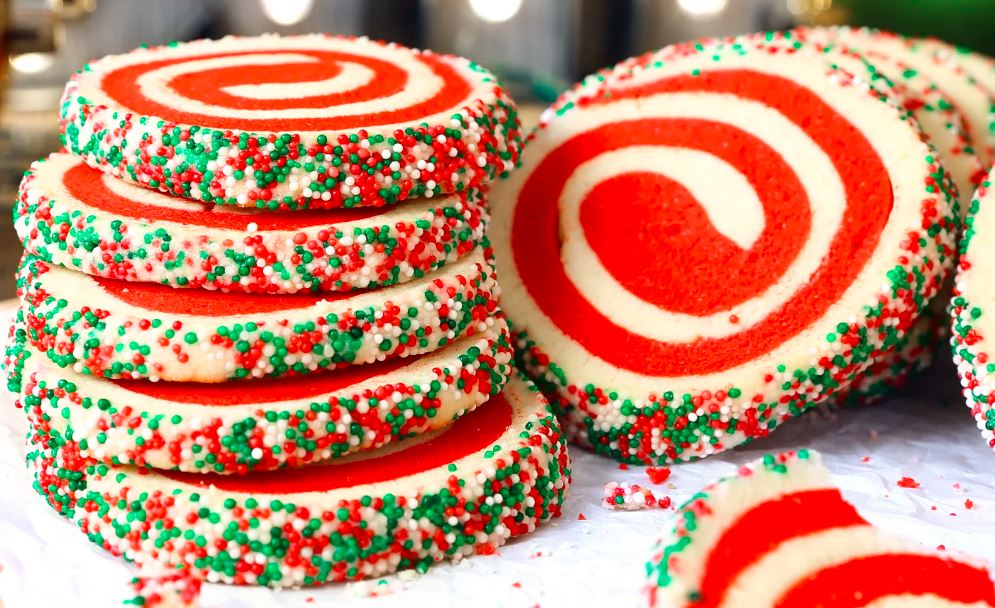 Ingredients:
2.7 Cups patent flour
1/2 teaspoon baking soda
1.8 Cups unsalted butter (room temperature)
1.2 Cups granulated sugar
1 egg
1 teaspoon vanilla extract
Red food coloring
Green food coloring
Baking sprinkles
How to make:
Place the flour and baking soda in a bowl and mix together.
In a separate bowl, beat the creamed butter with the sugar until creamy. I do this for 5 to 8 minutes on the highest setting. Then add the egg and vanilla extract to this.
Add the flour to the butter mixture and knead until you can form a ball of dough.
Divide the dough into 3 parts. Add the red dye to one part and the green dye to the other. Let the dough chill in the refrigerator for half an hour.
First roll out the natural dough between 2 sheets of baking paper. The dough should be about 0.5 centimeter thick.
Then do the same with the red and green dough. Carefully lay the slices on top of each other.
Now roll up the dough. Try to do this as tight as possible without pressing too much on the dough. Then wrap the roll in palstic foil and put it in the freezer for 1 hour. (Or 4 hours to overnight in the refrigerator)
Preheat the oven to 170 degrees and line a baking sheet with baking paper
Then remove the foil again and roll the dough through the sprinkles (if they don't stick, moisten the outside a little with water)
From the cookie roll, cut about 0.5 centimeter thick slices. Place the cookies on the baking sheet and bake for 12 minutes in the middle of the oven. Let them cool completely outside the oven.