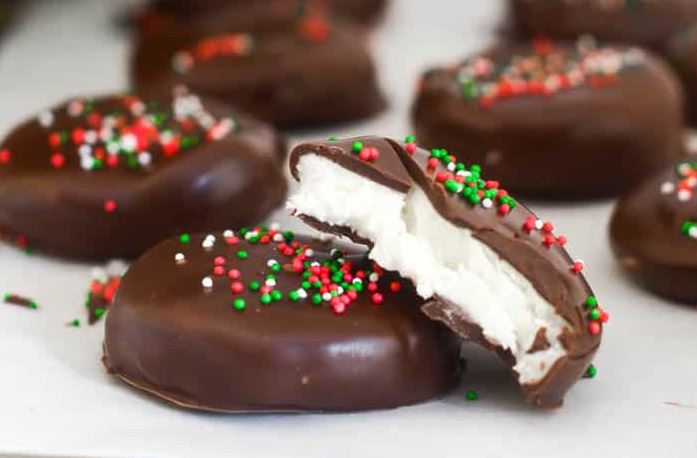 INGREDIENTS
1/2 cup (64 g) refined coconut oil, softened but not melted
2 tablespoons (28.3 grams) heavy whipping cream
2/3 cup (85 g) Swerve sweetener
1 teaspoon (5.69 grams) vanilla extract
1-2 teaspoons peppermint extract (to taste)
1 cup sugar-free dark chocolate chips
2 teaspoons refined coconut oil
Preparation
In a medium bowl, combine coconut oil and heavy whipping cream. Add Swerve sweetener and mix with an electric hand mixer until sweetener is dissolved.
Add vanilla and peppermint extract. Taste test the filling and see if you get a strong enough peppermint flavor, adding 1/2 teaspoon at a time. I start at 1 teaspoon, but I prefer a stronger peppermint flavor, so I lean more towards the 2 teaspoon amount.
Blend until you have a smooth texture. Place the bowl in the refrigerator for 15 minutes to chill. Once chilled, scoop out large teaspoons of filling onto a parchment-lined baking sheet.
Spread the filling with a butter knife or spoon to create a disk shape. Place the baking sheet in the freezer for 30 minutes. The colder the disk, the easier it will be to dip into the melted hot chocolate.
While the peppermint disks are freezing, melt the chocolate by placing the chocolate chips and 1 teaspoon of coconut oil in the top of a double boiler over barely simmering water. This will help keep the chocolate away from direct heat, allowing it to melt at a low temperature to avoid burning and separating.
If you want to melt chocolate chips in the microwave, you can heat them every 20 seconds, making sure to stir between each interval until you have reached a smooth, melted chocolate consistency.
Remove the peppermint filling disks from the freezer. Place the discs on a fork and dip the fork directly into the melted chocolate. Allow excess chocolate to drip off and place the dipped peppermint patty on the parchment-lined baking sheet.
Keep the baking sheet in the freezer until the chocolate has completely hardened. Place peppermint patties in a sealed container and place in the refrigerator or freezer until ready to eat. Enjoy!