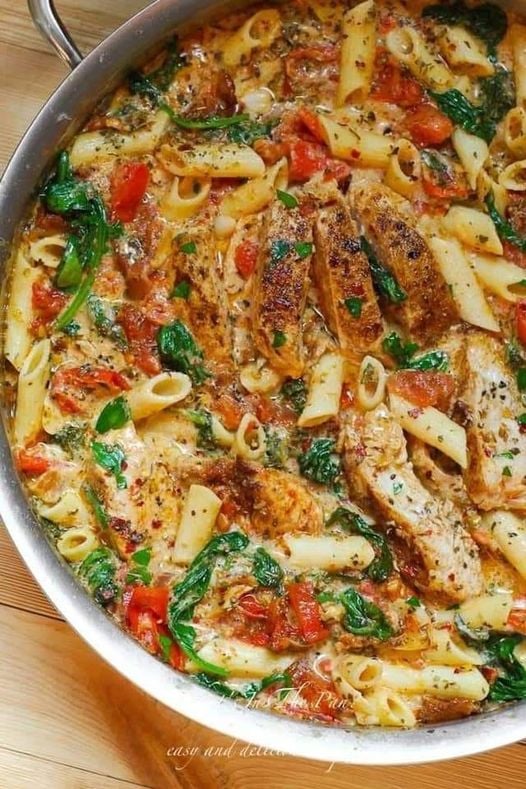 Ingredients
300-400 gr chicken filet
5 medium tomatoes, chopped in large cubes
1 cup cooked spinach (can be frozen)
6 strips of bacon, cooked, drained of fat and sliced
10 oz. penne pasta (for gluten-free version, use brown rice)
1/2 cup grated parmesan cheese for decoration
Spoonful of paprika 1
1 teaspoon Italian seasoning (thyme, oregano, basil )
2 tablespoons olive oil
5 garlic cloves, minced
1 tablespoon crushed red pepper
1 cup hard cheese like parmesan, grated for the sauce
Preparation:
In a large skillet over high heat, pour 2 tablespoons of olive oil . Add the chicken, dust it with paprika and Italian seasonings and cook on one side over high heat for 1 minute. Turn the chicken over and stir-fry for another 1 minute on high heat. Reduce heat to medium and cook chicken until fully cooked under cover for a few minutes, until pink in the center. Remove chicken from skillet and place in a warm place
In the same pan (but without the chicken), add the chopped tomatoes, spinach, garlic, chopped red pepper and half of the bacon (already cooked and fat-free). Mix everything and bring to a boil. Once everything is on the boil, add the grated parmesan cheese. Cook the sauce for a minute (no more than two minutes) over low heat, so that the cheese melts completely and the sauce becomes creamy. Don't forget to stir constantly with a wooden spatula. Add salt, pepper to taste.
At the same time bring a large pot of water to a boil, add the pasta and cook it according to the instructions. Drain the pasta, rinse with cold water and drain again.
Add the pasta to the sauce pan. Add the remaining half of the bacon and chicken. Season with salt, if necessary, and sprinkle with grated hard cheese.
Enjoy!