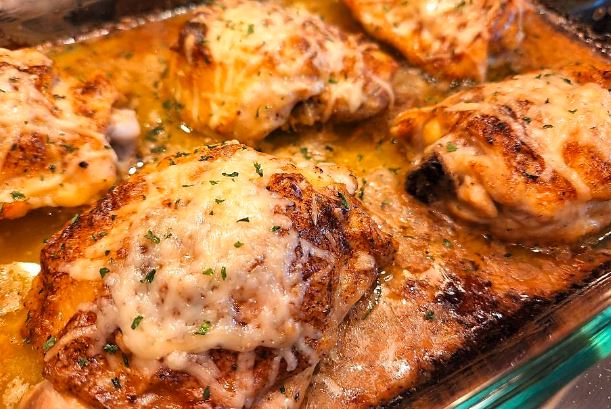 Ingredients
4 boneless, skinless chicken breasts
1 cup creamy Caesar dressing
1 ½ cups grated Parmesan cheese
1/2 cup sour cream or mayonnaise (optional, see note)
Preparation
Do NOT salt the chicken.
Heat oven to 375 degrees f and spray an 8 x 11 inch baking dish with cooking spray.
Place chicken breasts in prepared baking dish.Sprinkle breasts (both sides) with grated Parmesan cheese.
Drizzle ¼ cup of Caesar dressing over each breast (1 cup total over all 4 breasts) then sprinkle grated Parmesan cheese on top.
Bake for 30 minutes or until a thermometer reads 155 degrees.
Increase oven heat to broil and broil breasts for 2 to 4 minutes.
Remove from oven, cover lightly with foil and let chicken rest for 5 to 10 minutes before serving.
*** If you prefer a thicker sauce crust on top, add either 1/2 cup sour cream or 1/2 cup mayo to the Caesar and Parmesan mixture.