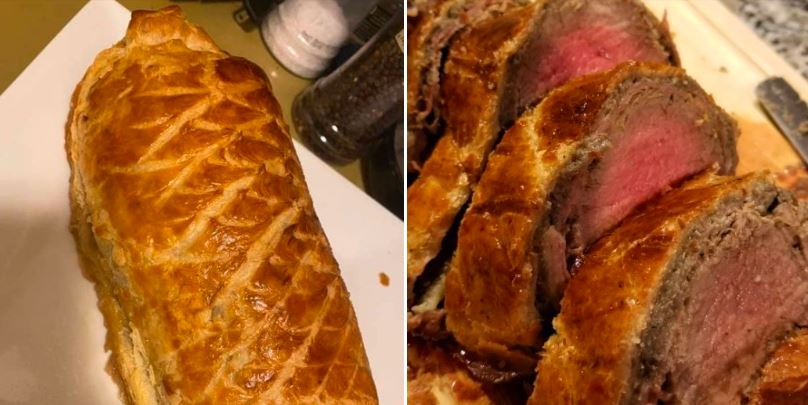 Ingredients
Prime Beef loin
Fresh mushrooms (champignons, shiitake) – 500 grams
Parma ham – 8 slices
Mustard – 2-3 tablespoons
Puff pastry – 1 package
Yolk – 2 units.
Olive oil
coarse sea salt
Ground black pepper
Preparation:
Take the loin out of the package and remove excess moisture with paper towels. Let stand 20-30 minutes at room temperature.
Only the central part of the loin is good for cooking, so cut off all the excess. These pieces are good for frying steaks.
Season the sirloin with salt and freshly ground pepper on all sides. Fry on a hot frying pan with grape seed oil for 60 seconds on each side. Until nicely golden crusted. The inside of the meat will remain raw. Transfer to a board, brush with mustard and let cool.
Mushrooms peel and grind in a blender, season with salt and pepper. You can add a couple of cloves of garlic.
Roast the mass in a hot dry pan. Add thyme leaves. Wait until the excess liquid from the mushrooms evaporates, and fry for about 10 minutes. You will have what is called duxelles. Remove it from the pan and let it cool.
Cover a work surface with clingfilm. In the center, place slices of Parma ham (in a square and slightly overlapping). Place an even layer of duxelles on top of the ham (you may want to spice it up a bit), and place the sirloin in the center.
Using food film, carefully wrap the beef into a tight roll, so that the duxelles completely cover the meat and to release excess air. Roll up the film tightly on the sides and put it in the fridge for about half an hour. You should have a sausage.
On a lightly floured surface, place a sheet of dough and roll out into a large rectangle just big enough to wrap a beef fillet.
Take the roll out of the fridge, remove the cling film and place it in the center of the dough. Brush the edges of the dough with whipped egg yolks, then wrap the dough around the meat (see video). Trim off any excess dough. You can use clingfilm again for convenience. Place the roll in the refrigerator again for half an hour.
Brush with egg and lightly notch the surface to make a pattern. Bake at 200̊C for 30-40 minutes, until golden and the dough is cooked through.
Remove from the oven and leave to rest for 20 minutes, then cut into portions at least 2 cm thick.
Serve with demi-glace sauce.