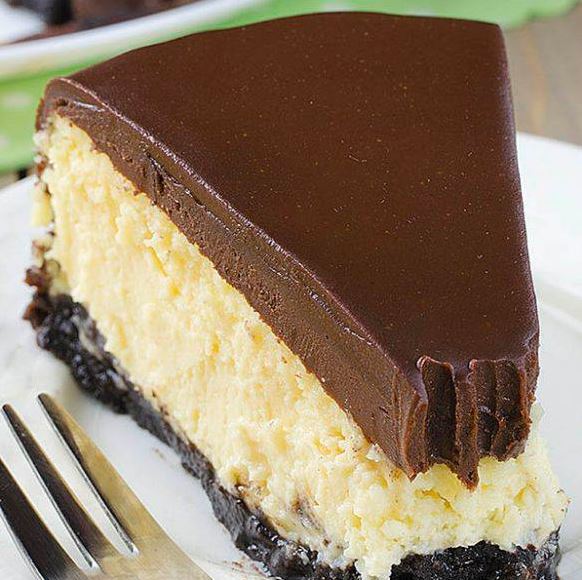 Ingredients
For the crust:
2 cups of crushed Oreo cookies
5 tablespoons of unsalted butter, melted
For the cheesecake filling:
680g cream cheese, melted cream cheese, melted cream cheese
1 1/3 cup sugar
1/4 cup cornstarch
3 eggs
1 1/2 teaspoon vanilla extract
1/2 cup Bailey's liqueur
For the chocolate ganache:
1 1/4 cup of cream
1 1/4 cup of cream of tartar sauce
Directions
Preheat the oven to 180 degrees.
Mix together
the biscuits and melted butter, press the mixture into a round
Bake in a round 23 cm non-stick removable cake tin and bake for 8-10 minutes
minutes. Allow to cool.
Once the crust has cooled, wrap the pan
Wrap the crust with two layers of foil, wrap tightly up the sides of the crust and roll it up to the sides of the crust.
and make sure they are sealed airtight.
With an electric mixer, mix cream cheese and sugar on medium speed until smooth.
Add
Add the cornstarch and continue to mix until incorporated
until fully incorporated, reduce speed to low, add eggs, one each
One at a time and then the vanilla extract and Baileys.
Add the vanilla extract, one at a time, one at a time, and then add the vanilla extract and the vanilla extract
mixture into the mould and place in a rectangular deep baking pan. Fill
about a quarter of the way up with hot water and bake at 180 degrees for about 10 minutes.
55-65 minutes, turning once (the cheesecake is ready when the
edges are firm and the centre is slightly loose).
Take out the cake
Remove the pan from the baking tray and allow to cool. Remove the cake from the oven and let it cool.
Remove the foil and place in the refrigerator (at least 5 hours or the whole day).
overnight). When completely cooled, score around the perimeter with a thin knife
to make it easier to remove the casing.
In a bain-marie, melt the cheese.
couverture until it is completely smooth and free of lumps. Then
pour and stir in the cream straight from the fridge). You will
The ganache should be very thick and creamy so that it can be
spread over the top and sides of the cheesecake without dripping.
Use only 2/3 and refrigerate the cheesecake for 5-10 minutes.
minutes to chill the ganache. Remove from the fridge and reheat the cake.
the rest of the ganache but this time it should be smooth (but
(but not too thin) to make a smooth and shiny surface on the
The surface should be smooth and smooth, but not too hard or too thin.
To maintain the glossiness of the ganache, let it cool to room temperature and then refrigerate the cheesecake.