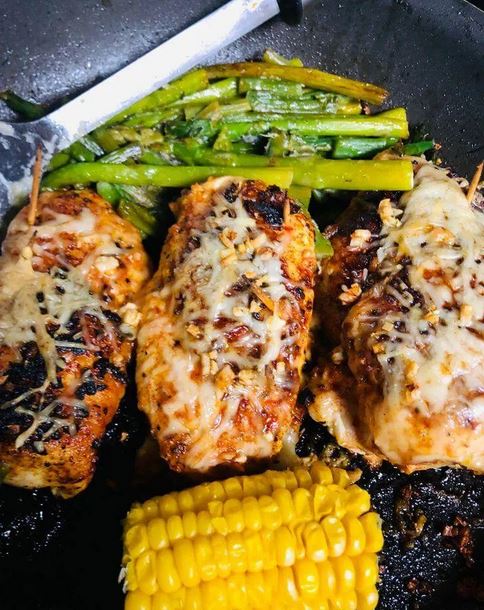 Ingredients:
Chicken Kingdom chicken fillet 4 pcs.
Asparagus 12 pieces.
Cheese (mozzarella or provolone) 4 slices
Lemon juice 1 tbsp.
Lemon zest 1 tsp.
Olive oil 1 tbsp.
Black pepper to taste
Ground paprika to taste
Garlic powder to taste
Preparation:
Make a horizontal ¾-width cut in each fillet so that the pieces open up like a book. Salt and pepper, pour a little lemon juice and add a small amount of lemon zest. Place a slice of cheese, 3-4 stalks of green asparagus in each uncovered piece of chicken and close the halves.
Rub each piece with a mixture of salt, pepper, paprika and powdered garlic. Fry in a heated frying pan with sunflower oil on both sides until golden brown. Remove the pan from the heat, cover with foil and send to the oven for 10 minutes at 220 degrees.
Take out the dish and let stand for 5-7 minutes. Remove the foil, put it on a plate and serve with pesto sauce, baguette and white wine.
Enjoy!
[addthis tool="addthis_inline_share_toolbox_5bgu"]